DESCRIPTIONS

My dear son,
I hope you
to be your biggest fan until you have real fans,
to clap for yourself when no one else claps for you,
to know that you're bound to win
no matter how many times you've lost.
I hope you
always believe in yourself as much as I do.
And never forget,
I LOVE YOU
forever and ever.
CUSTOMER FEEDBACK
''I purchased this for my 10 yr old son when my husband passed away unexpectedly just a few weeks ago. He had showed my son the exact picture a few months before he passed and it is beautiful reminder to our son that daddy is still there. He wears it on a chain and he is so proud of it.''  
—Angela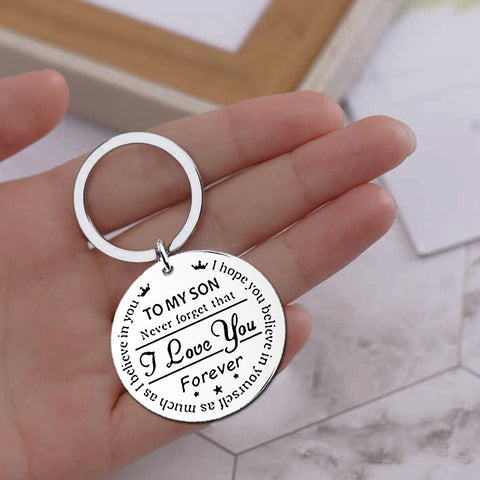 ''This is absolutely beautiful. I didn't think it was going to be as nice as it is because of the price but it is very pretty and my son loves it. He is going to hang it up because he said it is to pretty to put on his key chain and get messed up.''
—Danniel
SPECIFICATIONS
It is nickel-free, lead-free, cadmium-free and hypoallergenic. 
Made of stainless steel