DESCRIPTION
Hey girl,
There's some thing I need to tell you
You're smart, you're beautiful!
You can do amazing things!
New school year start!

You will love school this year girl!

Go, do hard for your dream!
You're the best! You can do it!
 DESIGN INSPIRATION
Life is tough espcially this year. But whenever you feel overwhelmed, please remember those person who always put you in their heart. We often need some support and encouragement to cheer up. 
This bracelet engraved with 'Beautiful girl you can do amazing things' to be a good reminder for the one you give it to. Seeing this message on the bracelet every morning will inspire her to take on the day with courage and strength, and the confidence that you can do hard things!
Gifts for teen girls,Graduation gifts,birthday gifts for women girls,Christmas gifts,friendship bracelets and best friend gifts!
WHAT PEOPLE SAY
"Better than I anticipated! Figured for the pricing this wasn't going to be anything super. But, I was wrong. Super cute design and details through the whole bracelet. Fits perfectly and fully adjustable."
— — Kimberly
"I'm a huge fan of motivational things. i love anything that promotes positivity, well being, and happiness. Sometimes, life throws you curve balls and you lose you're confidence in yourself and you just need a nudging reminder of all the great things you can accomplish."
— — Tim
SPECIFICATIONS
The cuff bracelet is made of 316L stainless steel, stronger and more durable, will never fade, tarnish, corrode, stain, or cause allergic responses. Nickel free, 100% in harmony with the wrist.

Measurements: Diameter 2.5". Adjustable openings designed to fit most wrists.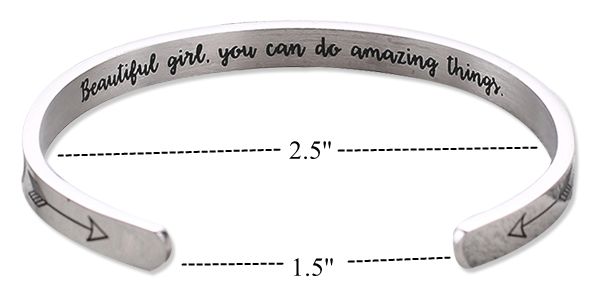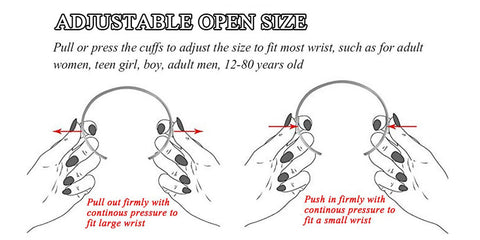 PACKAGE INCLUDES

General Pack
1 x Beautiful Girl You Can Do Amazing Things Bracelet

1 x  free gift bag
Sunflower Gift Pack
1 x Beautiful Girl You Can Do Amazing Things Bracelet

1 x  Sunflower gift box