Good news: now we're upgrading the engraving process.
Previous method is Laser Engraving, the new method is Laser Marking. 
1.Why we upgrade the engraving process?
For protecting environment
As a company that operates at an international level, we feel greatly obliged to act with responsibility with respect to our nature and environment and would like to contribute towards protecting and conserving them.
Then we realized that the Chemical Etching will affect the environment so we switch it to Laser Marking which will not pollute the environment.
For longer wearing time
Laser Marking technology is done while leaving the surface intact. It does not damage the metal, so it extends the wearing time of jewelry. Moreover, the laser marking will not fade, and the font will always be clearer.
2.About Chemical Etching and Laser Marking
Laser marking is what happens when the beam interacts with the surface of a material, slightly altering its properties or appearance. It is achieved by moving a low-powered beam slowly across the material using a method called discoloration, which creates high-contrast marks without disrupting the material.
Laser heats the material, causing oxidation under the surface and turning the material black. It applies low temperatures to metal to anneal the surface. All of this is done while leaving the surface intact.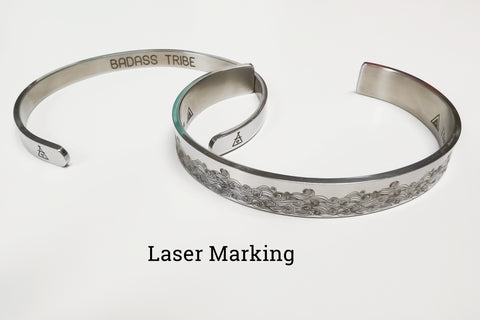 Chemical Etching is a process where the laser beam physically removes the surface of the material to expose a cavity that reveals an image at eye level.
The laser creates high heat during the engraving process, which essentially causes the material to vaporize. It's a quick process, as the material is vaporized with each pulse.This creates a cavity in the surface that is noticeable to the eye and touch. To form deeper marks with the laser engraver, repeat with several passes.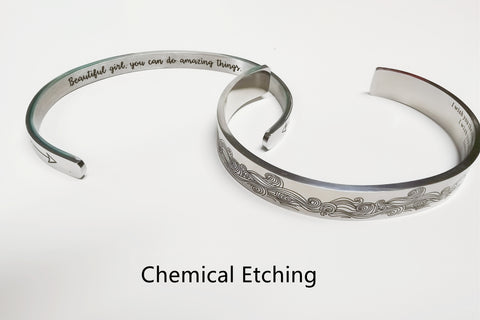 3.Difference between Chemical Etching and Laser Marking
Laser marking differs from Chemical Etching in a number of ways:

(1) Laser marking is also referred to as laser coloration or laser dark marking, as well as charring for plastic materials and annealing for metals.
(2) It's popular in the medical device industry for stainless steel and titanium parts, but can be performed on other materials as well.
(3) Laser marking systems are computer-controlled, environmentally friendly and offer the benefits of non-contact abrasion-resistant permanent engravings onto almost any type of material including precious metals. 
4.How Chemical Etching technology affect the environment?
The Chemical Etching will cause the material to evaporate during the engraving process, so that the material is vaporized. Some metal particles will be discharged into the air, affecting the environment.